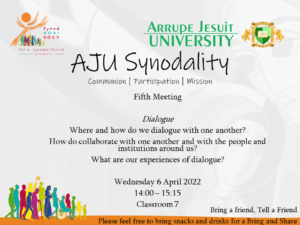 Dear Arrupians
Last week we discussed celebration and co-responsibility in the mission. We realised that at AJU, we need to do better to pray, worship and celebrate together. We need to make deliberate moves to rebuild our community after Covid. We need to open our hearts to all people at AJU, not just particular groups. At the same time, we recognised that at AJU we do well to develop our skills and direct them towards the service of God and humanity.
This week our theme will be dialogue in Church and Society.
Since there are no lectures this week and people will only be coming for the Child Protection workshop, we decided to have our meeting from 14:00 to 15:15. Please note this time change for this week.
The points for reflection are as follows:
Dialogue. "Dialogue is a path of perseverance that also includes silences and sufferings, but which is capable of gathering the experience of persons and peoples."
At AJU, where and how do we dialogue with one another?
At AJU, how do collaborate with one another and with the people and institutions around us?
What are our experiences of dialogue at AJU, with people of other or no faith, with people of different Christian denominations, and with people of different cultures and worldviews? Do we find God in these experiences?
How does the Church dialogue with and learn from other sectors of society: politics, economics, cultures, civil society, the poor, etc"?
Last week had some baked goodies and snacks after the meeting which fueled some extra synodal discussion. We invite everyone to bring and share some snacks or drinks.
We look forward to seeing you this Wednesday. Bring a friend, tell a friend.
Sean