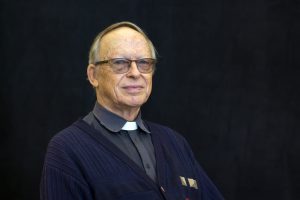 AJU students have been doing service programs since the inception of the institution in 1994. Some of these programs include teaching street children, working with HIV/AIDS patients, feeding the poor in Christonbank, and Hatcliff Extension, working with refugees at Tongogara Refugee camp, teaching at the high schools in Zimbabwe, Zambia and Malawi for a term during the winter period. In the last two years, AJU introduced the service program as a core requirement for all our degree programs. Students are therefore required to complete 100 hours of service program before graduation.
CLC-CATHEDRAL

Zinhumwe Kuda COMUTER/LIFT

ST. PETER'S KUBATANA

Phiri Hassan, Chisanga Dismas, Tembo Evans

MINI-BUS WITH L'ARCHE AND MBARE

FRENCH COMMUNITY APOSTOLATE

Kayiranga Prudence

Niyitegeka Don Remy

Donfack Donatien

COMUTER OR CAR WITH FR. MUHIGIRWA

PORTUGUESE APOSTOLATE

UZ – MAGIS, CATECHETICS, CLC

Okumu Gregory, Ogonah Abel

Kwenya Don Bosco, Atondo

Matthias, Manirakiza Victor

FOOT OR BIKE

HOLY NAME MABELREIGN-CHOIR

Issah Vincent (once a month)

COMMUTER OR LIFT

OUR LADY OF THE WAYSIDE-

SSVP

Tlali Moolisa, Mariano Eusebio, Zulu Mark

FOOT

HATCLIFFE EXTENSION-TICHAKUNDA SCHOOL

Portasio Timoteo, Zindonda Anold, Mduda Reginald, Abang Mark, CAR

OUR LADY OF THE WAYSIDE-SYNODAL PROCESS

Van Staaden Sean, Tivane Joao

FOOT

OLW-CATECHISM

Thibinyane Tatolo, Valane Jonas,

FOOT

OLW-YOUTH

Mapeza Maselechi, Chipalabwe Victor, Tsaor Gabriel, Masuzyo Jumbe

FOOT

OLW-CHOIR -SUNDAY MASS

Nduwayo Fleury, Tamburayi Christopher, Chuwa Felician, Etim Lawrence,

FOOT

ST. JOHN'S EDUCATION FOR

LIVING

Massae Yully, Ogbuagu Vitalis

Anongu James

BIKE

EMERALD HILL SCHOOL FOR THE DEAF

Nzayituriki Alexis, Maganga Humphrey, Adakpe Jeannot

BIKE

EMERALD HILL CHILDREN'S HOME

Simwinga Gerald,

BIKE

ST PETER'S MBARE SOCIAL

PROGRAM AND FOOD AID

Kalulu Innocent, Jonasco Regan,

MINI-BUS COMBINED

ST. PETER'S MBARE SCHOOL

Kapeta Pius, Portasio Joao, Mukulu John

MINI-BUS COMBINED

MBARE-PRAYING WITH THE SICK

Malick Jesus, Mashumba Anesu

MINI-BUS COMBINED

MT. PLEASANT HIGH SCHOOL

Okpiabele Paschal, Chakwe Teophilo, Musonda Richard, Buyu Paul, Kwayi Gerald, Wesonga Edwin, Bekone Paul, Issah Vincent, Owuor Michael

FOOT OR BIKE

L'ARCHE

Maro John, Kamau James, Besa Laban, (Maganga Humphrey???)

MINI-BUS COMBINED

AIME

CF. SEPARATE PAGE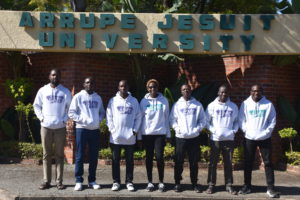 Since 2019, the University partnered with AIME, (Australian Indegenous Mentoring Experience), an Australian NGO whose main objective is to facilitate a mentoring program between universities and high school students from poor background. In this relationship AJU students were trained in AIME mentoring program which included child and vulnerable adult protection tutorials.
The mentoring program started with two high schools St. Peter's Mbare, and Tichakunda High School in Hatcliff-extension. It has now expanded to include other schools like St. Peter's Kubatana. AJU students have also taken the initiative to Catholic University of Zimbabwe.
During the COVID19 pandemic induced lockdown, the mentoring program could not continue due to the restrictions. However, the program coordinators looked for ways to continue the program using public radio stations and television stations. Eventually, they found that setting up WhatsApp Groups